In the mid-1930s, in order to save money, the British War Office sent out unified technical requirements to different automotive companies, which led to the emergence of the same first-generation machines with the same parameters and similar appearance, differing only in their own units. Their development continued for a long time, and before the war it was impossible to establish mass production of a number of models. With the advent of better automotive equipment, they were sent to less demanding countries, including the USSR.
Morris-Commercial PU8 (1935-1941)
The lightweight 60 hp army car PU8 with a payload of 400 kg was assembled by Morris-Commercial, which specialized in the production of ordinary light traps. Despite the insufficient speed data, low payload and poor cross-country ability, for lack of anything else it was adopted for service and served mainly as a staff car.
Morris-Commercial CS8 (1934-1944)
Multipurpose variant of Morris-Commercial CS8 (1934-1944) 1.5-ton category, unified with a serial truck with an output of 60 hp, had a specific appearance with a shortened hood, characteristic sloping triangle sides and large headlights. Over time, it became a business card of the manufacturer.
Guy Ant (1935-1946)
The Guy Ant flatbed truck was created on the chassis of an ordinary 55-horsepower pickup truck, which was given a distinctive military appearance with a flat and flat hood and sloping side panels. The vehicle has undergone several upgrades and in different versions was equipped with radio stations, spotlights, compressor stations and towed uniaxial trailers.

Morris-Commercial CDSW (1934-1942)
Three-axle 1.5-ton "Morris-Commercial CDSW" car with a 60 hp engine and rear driving wheels officially belonged to the class of cars with high cross-country ability. Its features were a gearbox-demultiplier in the transmission, main worm gears of the rear axles and hydraulic brakes. It was produced with different bodies as light gun combat calculation conveyor, staff car and tow truck with monotonous crane and winch.
Crossley IGL8 (1933-1942)
The most perfect three-axle truck of the first generation was the IGL8 model of the Crossley brothers engineering company. It was equipped with a four-cylinder 75 hp motor, two-speed gearbox and mechanical drive of medium axle brakes with vacuum booster. On this chassis were mounted flatbed bodies and engineering equipment, including cranes and searchlight stations with a benzoelectric installation.
AEC Marshal (1936-1940)
An important role in the creation of the three-tons was played by the AEC (Associated Equipment Company), which produced the model Marshal with a 70 hp engine, main worm gears, mechanical brakes and open cab without doors. This chassis was used to install various bodies-vans for radio stations, engineering pontoons and even mobile churches.
Foden DG6/12 (1941-1944)
The largest paramilitary three-axle was the cabover 10-ton model "Foden DG6/12", equipped with a six-cylinder diesel engine with an output of 102 hp, a simplified cab with a semicircular front panel, a hatch in the roof, front protective fence, wide tires and lights.
Second Generation Army Rear Drive Cars
The second generation included the former significantly modified cars of different categories, which went into mass production with the beginning of the war, and brand new models, which retained the traditional rear wheel drive. At the height of the Second World War, they were pushed back by the more advanced American cars, which arrived in the United Kingdom under the Land-Lease.
Morris-Commercial C4 (1939-1943)
Multi-purpose vehicle C4 of the Morris-Commercial company did not represent any step forward, but was just a simplified and slightly elongated version of the early 1.5-ton model CS8 with increased power up to 70 forces, open or closed cabin and various wooden bodies.
Standard UV (1939-1943)
All-metal pickup truck UV of the company "Standard" with a payload of 400 kg was created on a 44-horsepower chassis of Flying Twelve passenger car with flat body sides, where the front independent suspension was replaced by a dependent with an uncut axle. Seven thousand of such vehicles were used for general transportation in the army and the British Air Force.
Ford WOA2 (1941-1944)
Following the light military vehicle Ford WOA1, the British division of Ford Motor Company on the civilian 85-horsepower chassis V8-62E produced about five thousand original staff minivans WOA2 with all-metal bodies, which housed the commander's radio and telephone stations.
Ford WOТ2 (1940-1945 гг.)
In late 1940, to make up for the lost part of the military fleet after the defeat in France, the British branch of Ford presented a compact multipurpose vehicle WOT2 with a payload of 750 kg, produced in several variations. It had a simple design with a 3.6-liter 60-power V8 engine, an open cab with side tarpaulins or half-doors and a short wooden body for eight soldiers.
Despite the low cross-country ability, WOT2 was offered in seven versions and was released in the amount of 60 thousand copies.
Bedford MWD (1938-1945)
This light vehicle was a typical example of the transformation of an ordinary truck into a fairly comfortable and compact army vehicle for the transportation of soldiers, small loads and installation of anti-aircraft systems. Its development and testing was carried out by Bedford Company within the 72-strong commercial range of MW with a payload of 750 kg and 1.5 tons of OX family.
The basic military version of MWD was characterized by a purely functional and hint-free appearance with a flat front panel, two or one left headlight, open cab without doors and a wooden body. It was produced in six versions. A total of 66 thousand of them were assembled.
With an acute shortage of army trucks, British companies Austin, Bedford and others were actively converting their civilian vehicles into two-axle paramilitary versions, which we have already told about.
Since January 40 the reinforced 77 hp WOF chassis has been used for the installation of special vans, field workshops, photo labs, etc. Until June 1941, 1,600 copies had been assembled.
This design with a single wheelbase of about four meters was copied by the Albion BY3 and Leyland Retriever trucks with their own power units of 73-80 hp, which served mainly for the transportation of pontoons and bridge sections.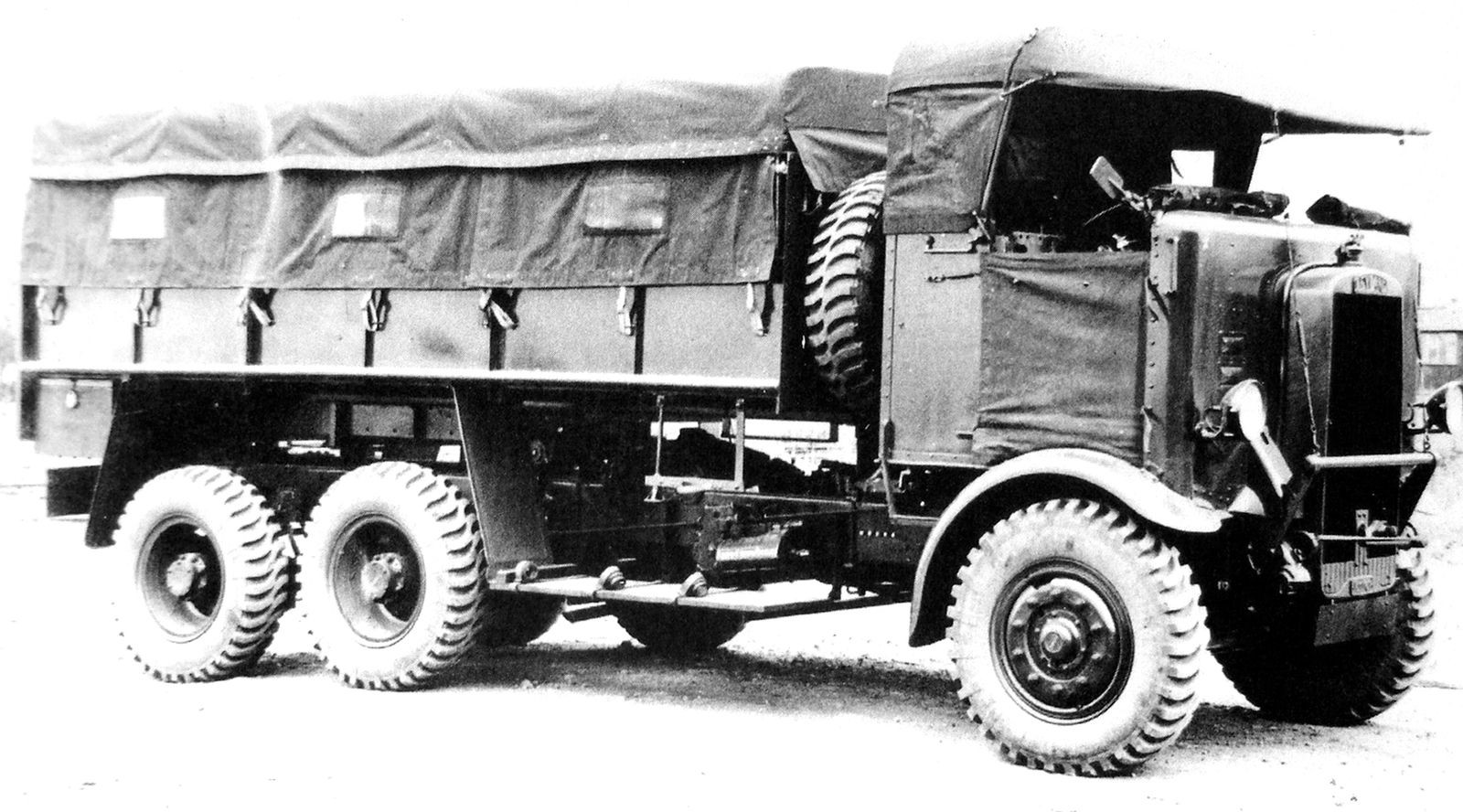 Ford WOT1 (1940-1945)
A new direction of three-tons development was opened by the English branch of Ford Motor Company Corporation, which produced by order of the British Air Force 85-horsepower bonneted WOT1 vehicle. Its basis was a civilian version of E917T model of 1939, from which WOT1 differed by a flat radiator and simplified cabins of different lengths.
The range of superstructures included vans, changeable containers, refuelers, spotlights, aerostatic winches, mobile hospitals, etc. By the end of the war, more than nine thousand machines of this series had been assembled.
Since 1942, Austin company produced a bonneted truck K6 with various superstructures, similar in general design and purpose to Ford WOT1 machines by order of the British Air Force.
Albion CX23N/CX22 (1941-1945)
In wartime "Albion" company assembled 10-ton trucks of CX series. In 1941, the first cabover flatbed version CX23N with a six-cylinder diesel engine of 100 hp, eight-speed transmission, five-meter wheelbase and an extended flatbed body with suspended tool boxes was presented.
Since December 1943, its variant was one of the most famous army vehicles of the brand "Albion" – bonneted truck tractor СХ22 for towing heavy trailers and guns of caliber up to 155 mm.
It was equipped with a flatbed body with a hatch in the awning, a narrow front door and a four-seater compartment to accommodate the combat calculation of the towed gun and laying the ammunition, as well as an eight-ton winch. The machines of both types were built 900 copies.
On the title photo – a compact multi-purpose vehicle Bedford MWD of late production with camouflage lights and a hatch in the rigid roof of the cabin.
All measures have been recalculated according to the International System of Units.
The article uses only authentic black and white illustrations, natural color photographs made by the author.