A bit of history
The history of the Duster is boring, but it is necessary to remind it. Probably not everyone remembers that for the first time Duster appeared in 1980. Of course, it had absolutely nothing to do with the modern Duster. It just so happened that Romanian ARO 10 in Great Britain was known under the name Dacia Duster.
But our hero of today appeared only in 2009, and sales (except Russia) began only in 2010. Crossover boom has already rolled over our country with all its might, and it was impossible to delay the appearance of this car on the domestic market. But delayed, and as a result the first owners of Duster in Russia appeared in 2012.
The task before Renault-Nissan was difficult: to make a car not only quickly, but also cheaply. But these guys had at hand the B0 platform on which it is possible to build everything from sedan to hatchback. This time they have constructed a crossover. It has appeared very "logan-like", and the matter is not only in front doors from Sandero, but also in many other things. First of all, even at the stage of pre-order the Duster became a bestseller. Subsequently it has firmly located in a top of sales for many years. Well and secondly, the simplest complete set in 2012 resembled very much the simplest complete set of Logan. The car had wheels, steering wheel, brakes, engine and gearbox. But even that was enough for a resounding success: the first one million Dusters were produced in five years.
In 2015, a restyled Duster came out, but today we are not talking about it. Our car is one of the earliest. I wonder how it feels at its age? Spoiler: not bad.
Engine
Dusters had several engines: gasoline 16-valve 1.6-liter K4M (102 hp before restyling and 114 hp after it), two-liter F4R (135 and 143 hp respectively) and diesel 1.5-liter K9K (90 and 109 hp). In our car it is the most simple K4M with power of 1.6 hp. But simple does not mean bad. This motor is very successful, with good service life and inexpensive maintenance. Let's see how much it costs.
But let's not start with an oil change (although we usually start with it), but with an important observation. Pay attention to the color of the engine. What's covering it is the residue of reagents from the road. The engine has not been washed for a long time, and that's bad. Some will say that washing the engine is a risky thing to do. I partially agree, but not washing the engine at all is not a risk, it's murder. It is not only in possible overheating (here we have no oil coat, so the risk is minimal), but in precipitous corrosion of all fasteners and elements of wiring. So the first thing the service advised us was to make a fist of will and wash the engine. Okay, we learned that, what's next?
And then – routine maintenance. You can change the oil yourself – there is nothing complicated. True, and savings are small – only 600 rubles. But if you don't feel sorry for them, you get the oil (the original Elf 5W30 is quite good, 3500 rubles), filter, and onward – to the pit or hoist. We bought a Goodyear filter (part number GY1209). It is not worse than the original, and the main thing is that it cleans the oil very well due to Finnish Ahlstrom filtering material, and the price is not expensive. The only difficulty when changing only one: how not to break your hand in two places to unscrew the old filter and screw in the new one. Theoretically it is possible to handle the filter, but the first time it will not be easy.
The air filter is easier to change, and the service will ask for 200 rubles. Nevertheless, you'll also have to work with it. The thing is that you'll have to unscrew something, and you'll need Torx T-25 wrenches for that. So we take a good tool kit, swear a little at Renault-Nissan (they are very fond of any non-standard fasteners) and start to unscrew two screws of the case cover. It is desirable to remove in advance a tube of vacuum booster from connector of receiver, which will interfere the process. After the cover is removed, you can take out the old filter. Before putting in a new one, you need to make sure the housing is clean. Sometimes the filter doesn't fit tightly enough and lets in some dust and debris. These need to be removed (not into the engine housing, but out!) and then you can put the new filter in. We put a Goodyear filter (part number GY2225), which with its elastic seal keeps dust out of the housing and hence the motor. So, we're done with it and let's move on.
The candles here are inexpensive (150 rubles each), and there are no special features to replace them. If you don't want to do it yourself, pay 300 rubles.
As for the timing belt, there is some peculiarity. It is clear that changing it with your own hands in a 16-valve engine is not very convenient, but that is not the point. The point is that the 2015 regulations recommend changing it every 90 thousand kilometers. According to specialists' observations, by this time the belt is usually noticeably worn out, so it is recommended to change it according to the old regulations – once in 60 thousand. It is especially important in cold regions: the belt can be torn in cold weather. However, it is not expensive to change the belt in Duster – 4,500 set for replacement and 4,000 of work. A modest price for peace of mind.
At the same mileage (every 60 thousand) it is necessary to replace the belt of additional units. It costs 650 rubles (yes, this time we are not even looking for analogues – consumables on the Duster are quite adequate), replacement will cost 800.
We did not find any serious defects under the hood. The oil seal of the steering pump is a little bit leaky, and it will have to be replaced. And there is a little misting of the manifold and valve cover gaskets. There's no dripping, just misting, so it's not a big deal yet. In the future, of course, will need to replace them.
Transmission
Our Duster has all-wheel drive and a manual transmission. The manual is the best choice, the automatic DP8, which stands here with all-wheel drive, is not the best choice. About this automatic transmission we have told a lot, we do not have it here, so we will not be distracted by our favorite occupation – insulting boxes series DP/AL4. Let's go straight to the car.
Strange as it may seem, it is necessary to change oil in a mechanical gearbox, too. Moreover, in Duster it is recommended to change it often enough – once in 60 thousand. It takes 2.4 of transmission oil and 1200 rubles to pay for the work. At the same interval we change oil in the transfer case. But here everything will cost a little cheaper: 900 rubles per liter of oil and 800 rubles for its replacement. And one more operation every 60 thousand – changing the oil in the rear axle gearbox. Any 75W90 oil (1.2 liters), 800 roubles – and that's it, that's the end of routine maintenance. But we have a problem.
In principle, the state of the transmission for the run of 150k is very good. Only something in the cardan drive may be broken there. And so it happened: the cross shaft has corroded noticeably. It should be repaired. It costs not expensive – within 5 thousand. However, you will have to pay for removal and installation separately, and here it is as it goes: the amount will depend on the complexity of the process.
The joint between the box and the transaxle is a little sweaty. To be sure that the gasket is to blame, the joint should be washed and the oil should be observed. So far there is nothing to worry about, it is too early to talk about urgent repair.
One more thing: the clutch sensor wire is visible on the side of the rear gearbox. It's easy to cut it off with the first strong branch on a forest road (like the lambda sensor wire), so it's better to put a protection on the gearbox. You can find it at stores that deal with everything built on the B0 platform.
Chassis and brakes
The front brakes have a peculiarity: the inner casing of the disc at the front has an open part, dirt gets there, and sometimes the discs just rot. Especially for those who like to drive on dirt. The problem is not widespread and inexpensive to solve: good discs cost in the range of six thousand, and their replacement will cost 1600 rubles. Otherwise the brakes are fine, with no generic "sore spots" they do not suffer. Periodically you will need to change the pads (they cost in the range of two thousand, there are many analogues, the work – 900 rubles per axle), but you have to do this in any car, not only in Duster.
I had to invest in the running gear. The car drives a lot on bad roads (that's what it was bought for), and it's usually loaded. We had to change everything all at once, so we invested 40,000 rubles in the running gear at once. It is not much by today's standards, taking into account, that we have a multilever rear (the front-wheel drive Dusters have a beam). What has cost the most here? Probably the front suspension arms – decent ones cost 3200 apiece (replacement 2000). Not the cheapest rear hub bearings – 4200 (front ones only 2600), but they usually last a long time. If anything, they cost 1900 for the rear and 2400 for the front.
Stabilizer rods are the same at the front and rear. Their price is about 1200 rubles, but they have a good resource.
Body and interior
Duster – the car budget, and there is no reason to be surprised that it rusts quite noticeably with age. But our sample is still holding up well. There is corrosion only there, where it can't be in Duster – near the padding on the back door. Unfortunately, this place is always rusty on Dusters.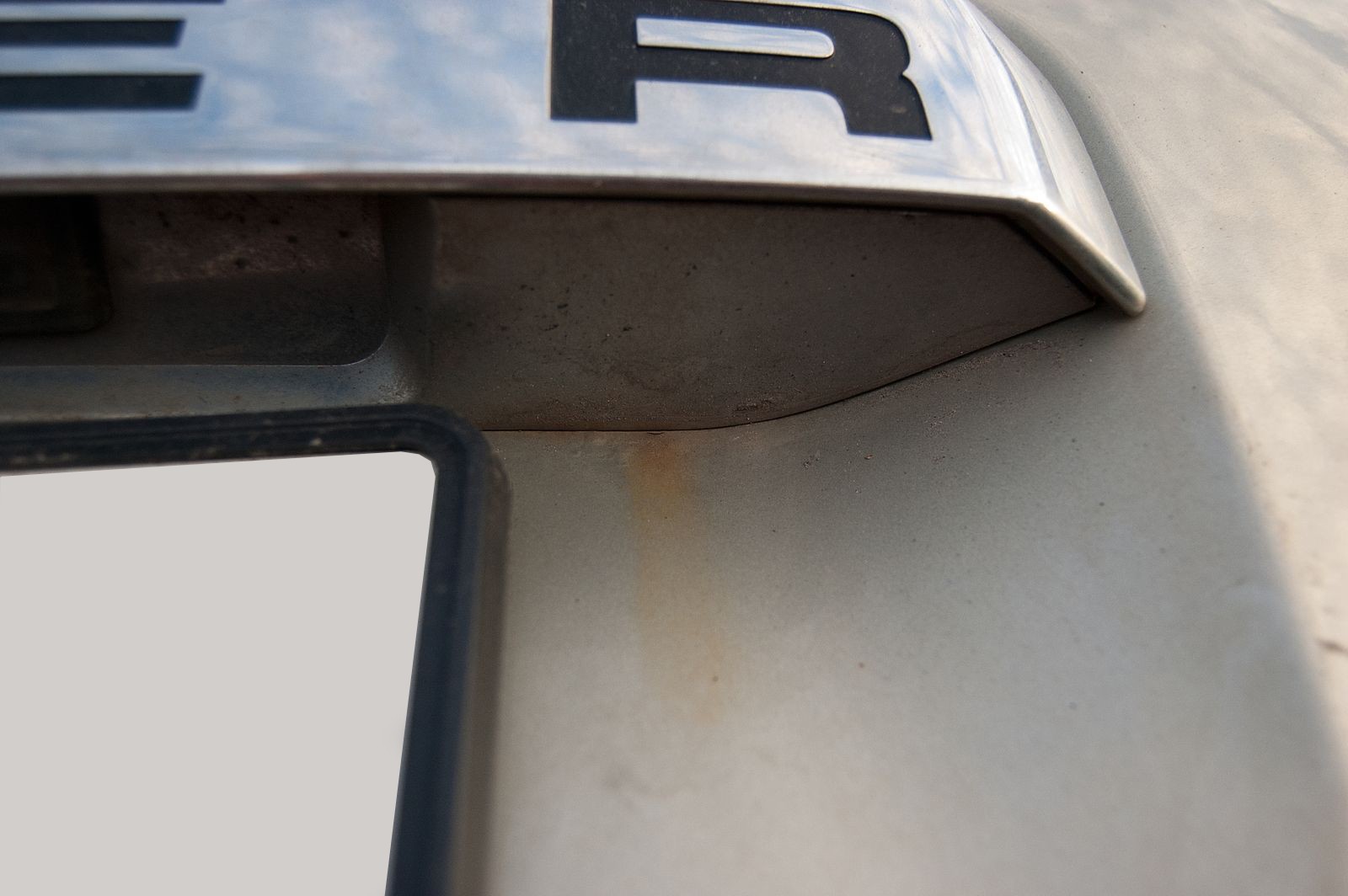 The second problem area is the sandblasting area on the rear fenders. The arches are very prominent and collect all the road abrasion. These places have to be repainted, otherwise you can wait for holes.
We do not touch the body, so you can only replace the wipers (wiper blades for aesthetes) before the winter. They are the same length in the first Duster – 510 mm for both driver and passenger. The decision is a little bit strange, but what to do. Quickly visit our favorite Goodyear website and choose new wipers with a couple clicks. It's not hard to change them, we'll skip this procedure.
And what else we advise is to treat the windshield with antifreeze. It costs a penny, but it saves a lot of "antifreeze," and the resource of the brushes (after treatment the glass is easier to slide on it).
The interior of the Duster is not notable for its resistance to wear and tear. The steering wheel is so worn out that I even slightly doubted the truth of the mileage, but the car has only one owner, and he bought it new. So the mileage is real, and to keep the steering wheel longer, I can advise only one thing: do not twist it, pressing it with your palm. This is especially true for leather steering wheels, but in the case of Duster advice would have come in handy (if it was not seven years too late).
What to do in the interior? First, it can be cleaned, which will return the car at least a little of its original luster (if that word applies to the Duster). There are many products for this, but our product not only returns the look, but also kills bacteria and eliminates odors. Good stuff.
Then we change the cabin filter. It is not difficult to do this on the Duster, but the original filter is not so good – almost 600 rubles. This is a bit much for a budget Duster, so we buy a Goodyear filter (part number GY3219). It is a little cheaper, and most importantly, it is not at all worse than the regular filter and easily fits in its place.
What's the result?
Duster has won the love of Russian and not only owners for a reason. As it should be an inexpensive car, it is very durable, and its maintenance cannot be expensive. Yes, if it is constantly overloaded, it is possible to change rear shock absorbers and springs too often, but still it is difficult to find something more suitable for trips beyond the asphalt in this price segment. Probably, some will not like the volume of a trunk (especially on the four-wheel drive version), but there is always a way out. Something sometimes can be folded in the interior, as the owner of our car does, and something – in a trunk on the roof, if you buy it, of course. And then there is a place in the luggage compartment for off-road stuff, from tents to towing rope or coals for the barbecue.
Well, and another advantage of the Duster is the simplicity of design and good familiarity with it car services. Even if something breaks down (which is unlikely), you can always find a place to repair it. For a car that spends a lot of time out of town, this is a significant plus.