In the spring of 1939, with the introduction of German occupation, Czechoslovakia became a German protectorate and the main supplier of vehicles to Nazi Germany, and the creation and use of new trucks came under the control of the Wehrmacht. German administration was introduced at all factories, production of outdated vehicles was stopped, and the transition to the left-hand drive was gradually began.
Military vehicles of the Tatra factory
Despite the difficulties, all military products of the Tatra plant, which got its "name" after the High Tatras mountains, were considered a revolutionary world-class achievement and the most reliable means in difficult road conditions. These included air-cooled engines, tubular spine-bearing frames, independent suspension on transverse and longitudinal leaf springs with oscillating half-axles for wheel drive.
Light staff vehicles and prototype all-terrain vehicles
The first development of light paramilitary vehicles based on the production cars Tatra-57/57A began in the mid 30's and consisted of the assembly of thirty multi-purpose cabriolets without doors with two "spare" seats and additional fuel and water tanks on the right side step.
With the beginning of the War, the main Czech campaign vehicle was the Tatra-57K with a 23-horsepower engine, simplified bodies with flat side panels and a canopy with add-on windows. The trucks were supplied to the Wehrmacht, Czech police and Hungarian army. Until 1945 about 5.5 thousand trucks were produced.
In February 1937, the surrogate prototype of the first 4×4 Jeep V750 for Czechoslovak army was presented and tested. It was equipped with a 30 hp air-cooling engine, central supporting frame and all-wheel suspension on transverse springs.
In the late 30's several prototypes of four- and five-seat "Kubelwagen" V799 and V809 (4×4) of own design were presented. The trucks were equipped with in-line or opposed engines with power from 50 to 74 hp, wood-metal frame, transmission with four or eight forward speeds, spring or torsion bar suspension and hydraulic brakes.
Unique multipurpose three-axle military vehicles
In a small peace-loving country the origins of military vehicles since 1926 were considered a three-axle 24-horsepower cargo-passenger car T-26/30 with all the design solutions peculiar to the factory.
In the mid 30's its successor was a 29-hp family Tatra-72 (6×4) with a four-cylinder engine, which today would be a mixture of recreational passenger cars with delivery trucks. In addition to staff versions, this family included army 1.5-ton trucks and light weapons carriers.
By the beginning of World War II, "Tatra" had managed to expand production of three-axle 55 hp range T-82 for headquarters needs and transportation of 2-ton military cargo, which included vehicles with different cabs and bodies, single and double rear wheels and recognizable appearance with a wide sloping "nose". Some trucks had winches and lateral support rollers. There were 322 copies of these trucks.
The Tatra-92 third generation trucks were equipped with an overhead valve air-cooled V8 engine of 74 hp and used as command cars or two-ton trucks for installation of various bodies, and also served to install closed sanitary bodies.
A new multipurpose chassis Tatra-93 (6×6) of several types with units from the T-92 model was created under the contract with Romania for the delivery of 880 military vehicles for various purposes, including 699 trucks. Totally more than 1,300 trucks of T-92/T-93 range have been made, including 500 T-92 trucks for Wehrmacht.
Simple and legendary Tatra trucks
In the mid-1930s on the orders of Wehrmacht, the Tatra factory began to refocus on the production of heavy three-axle army trucks equipped with several types of gasoline and diesel engines, V-shaped power units, left-hand steering and spine frame, which opened the way to more advanced all-wheel drive military vehicles.
Tatra-85/85A (1935-1941).
The Czech Army was served by 80-horsepower Tatra-85 (6×4) petrol trucks with all-metal cabs with three-part windshields, mechanical rear axle differential locks and all single wheels with oscillating half-axles. Their rare feature was the use of different versions of vehicles with a payload of four to six tons with three sizes of wheelbases, which allowed them to adapt to the transported cargo and superstructures.
On the T-85A chassis with an extended cab were mounted fuel tankers and airfield refuelers with tanks of three thousand liters capacity, six-power engine to drive pumps, rear control compartment and dispenser hoses. Totally 314 vehicles of T-85 series were produced until 1941, 224 of them were fuel tankers, mainly working for Wehrmacht.
Tatra-81 (1939-1942).
As soon as the Czech Republic was occupied by Germany, on the instructions of the German War Office, the Tatra factory began to develop the heavy diesel army vehicles on which were tested the fundamentally new power units and components.
The first in a limited quantity of new trucks was built the 6.5-ton truck Tatra-81 (6×4) with a traditional for the factory chassis and in-line eight-cylinder water-cooled diesel engine rated at 160 hp, which was known as a precursor of the future range of heavy vehicles. Over three years, 220 trucks were built.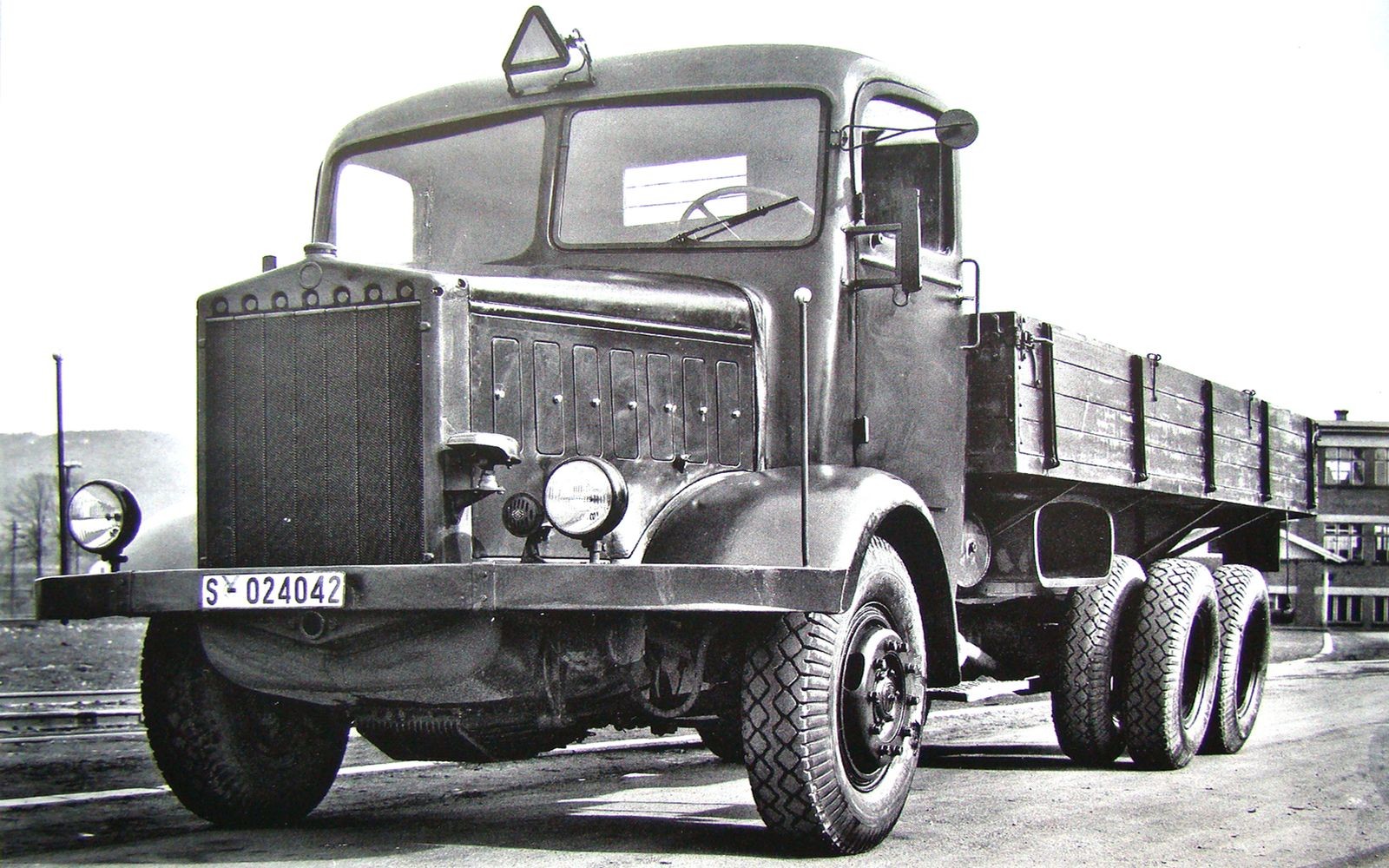 Tatra-111 (1943-1945).
In 1940, the development of three-axle all-wheel-drive diesel vehicle and several prototypes of power units to it was began. These trucks were originally planned to deliver to the main satellite countries – the armed forces of Hungary and Romania.
It is based on a 6.5-ton truck T-81, which was equipped with a leading front axle, modified longitudinal frame and rear suspension on leaf springs. Only in 1942, after solving a number of design problems, the truck was ready to receive its own 210-horsepower air-cooled diesel engine T-103 V12 with two fans and a working volume of 14.8 liters. Based on payload, the first truck received factory index T6500/111, known by its simplified designations Tatra-111 or T-111.
In the process of operation the T6500/111 revealed the disadvantages of forced engine, insufficient tightness of front drive wheels joints and increased weight at a relatively low payload. There was no time to improve it, so the military decided to reduce the diesel engine power to 200 hp, strengthen the rear suspension and increase payload up to eight tons. So, in April 1944, the more reliable truck T8000/111 with a de-energized engine entered into mass production.
Another reason for changing the design of this machine was a plan of German War Department to reduce the range of its heavy vehicle fleet. As a result, almost all similar German vehicles of 6.5 tons and above were withdrawn from production, and the Tatra-111 turned from a minor vehicle into a full-fledged heavy vehicle of the Wehrmacht.
Structurally, both versions of the T-111 were made according to the traditional "Tatra" scheme, which included a 16-speed transmission with a two-speed reducer, transfer gearbox, rear main gear differentials, front-drive disengaging mechanism and double-tyre 20-inch wheels.
Usually they were equipped with all-metal cabs and flatbed bodies 5.5 meters long with longitudinal folding benches, but in the closing period of the war, because of metal shortage, the trucks were equipped with wood-metal ersatz-cab and van bodies.
"Tatras-111" with de-energized to 175 hp engines had participated in military transport in Germany, a number of satellite countries and at the Eastern Front, in Belorussia and Ukraine. Till the end of the war 1445 T-111 of all types were produced. 906 of them for Wehrmacht. In socialist Czechoslovakia production of slightly upgraded 180 hp versions continued until 1952.
The title photo shows a two-ton T-82 truck with a cladding from a passenger model, all-metal cab and double rear wheels. 1935-1938.