All efforts are aimed at increasing efficiency, while at the same time keeping the emotions high in some engines – with success. The spectrum is impressive, ranging from a three-cylinder gasoline engine with a small displacement to a powerful naturally aspirated V8. And now: off to the combustion chamber!
Mercedes M 254
(1) The segment charger separates the flows of cylinders 1 and 4 as well as 2 and 3. (2) A water-cooled electric motor sits as an auxiliary compressor on the cold side of the turbocharger. (3) The 48-volt starter generator supports the M 254 with up to 15 kW and around 180 Nm.
If you like, Mercedes charges the two-liter four-cylinder gasoline engine M 254 (272 hp, 400 Nm) four times: When the accelerator is pressed, the starter generator's e-motor first sends its torque to the transmission, followed by the electrically driven auxiliary compressor. It sits on the cold side of the turbocharger and compresses the intake air until the exhaust gas flow is sufficient to drive the turbine of the turbocharger (third stage). Fourth stage is the overboost, which can deliver an additional 41 hp for 30 seconds. The Mercedes engineers are justifiably proud of the smooth blending of these four stages. On the one hand, the power delivery is strongly reminiscent of that of a large-volume naturally aspirated engine. For another, the M 254 runs very efficiently.
BMW B57D30
Ford Coyote
Honda K20C1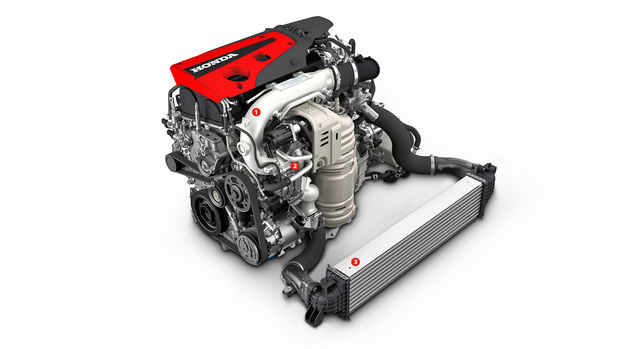 Jaguar Land Rover Ingenium I6
Toyota G16E-GTS
To squeeze 261 hp and 360 Nm out of a 1,618 cc small three-cylinder, you're going to need quite an oomph from a turbo. Yes, that's more the spirit than the literal translation of what Toyota communicates about the development of the GR Yaris. For the World Rally Championship – and 25,000 homologation exemplars – the Gazoo Racing division developed a twelve-valve engine full of racing technology: with combined intake manifold and direct injection, steeply angled intake and larger exhaust valves for high-speed combustion, high-strength connecting rods, hydraulic engine mount with torque supports, and the single-scroll turbo integrated into the exhaust manifold with extreme-low-friction ball bearings. There's only a brief delay before the engine kicks in with a vehemence that makes it look like it's always ready to chase a pack of Hyundai i20 WRCs up the Col de Turini. Well, it does.
Porsche 9A2evo
PSA 1.2 PureTech EB Turbo
VW 2.0 TDI EA288 evo