The three-axle bonneted ZIL-131 with all single wheels was the first domestic army medium class truck with a payload of 3.5 tons when operating on the ground, which delivered army loads of up to five tons while working on paved roads. Produced for 34 years, the ZIL-131 became the main truck of the Soviet Army and the main base of the extensive family of special military vehicles.
ZIL-131 predecessors (1956-1966)
Experimental trucks marked ZIL-131 appeared in 1956, but then it took a decade to perfect them and put them on the assembly line. Stumbling block was a promising power unit V8, and therefore three-ton firstborn ZIL-131A received a 135-horsepower V6 engine and units from vehicles ZIS-151, ZIL-157K and a trial civilian model ZIL-130.
The result of these combinations was the second 2.5-ton hybrid ZIL-131 with the name ZIL-165 and a six-cylinder engine of 125 horsepower. In 1959, the third ZIL-131 with a test engine V8 rated at 148 hp, which became the real basis for the future production car.
ZIL-131 production cars (1966-1990)
The long process of creation of the ZIL-131 was completed in December 1966, and serial production could be launched only a year later. The truck was equipped with a perfect for its time V8 engine rated at 150 hp, shielded electrical equipment, front wheel drive with ball joints, power steering, tire pressure control and all-metal cab with a panoramic windshield. Some trucks had a five-ton winch mounted on the front.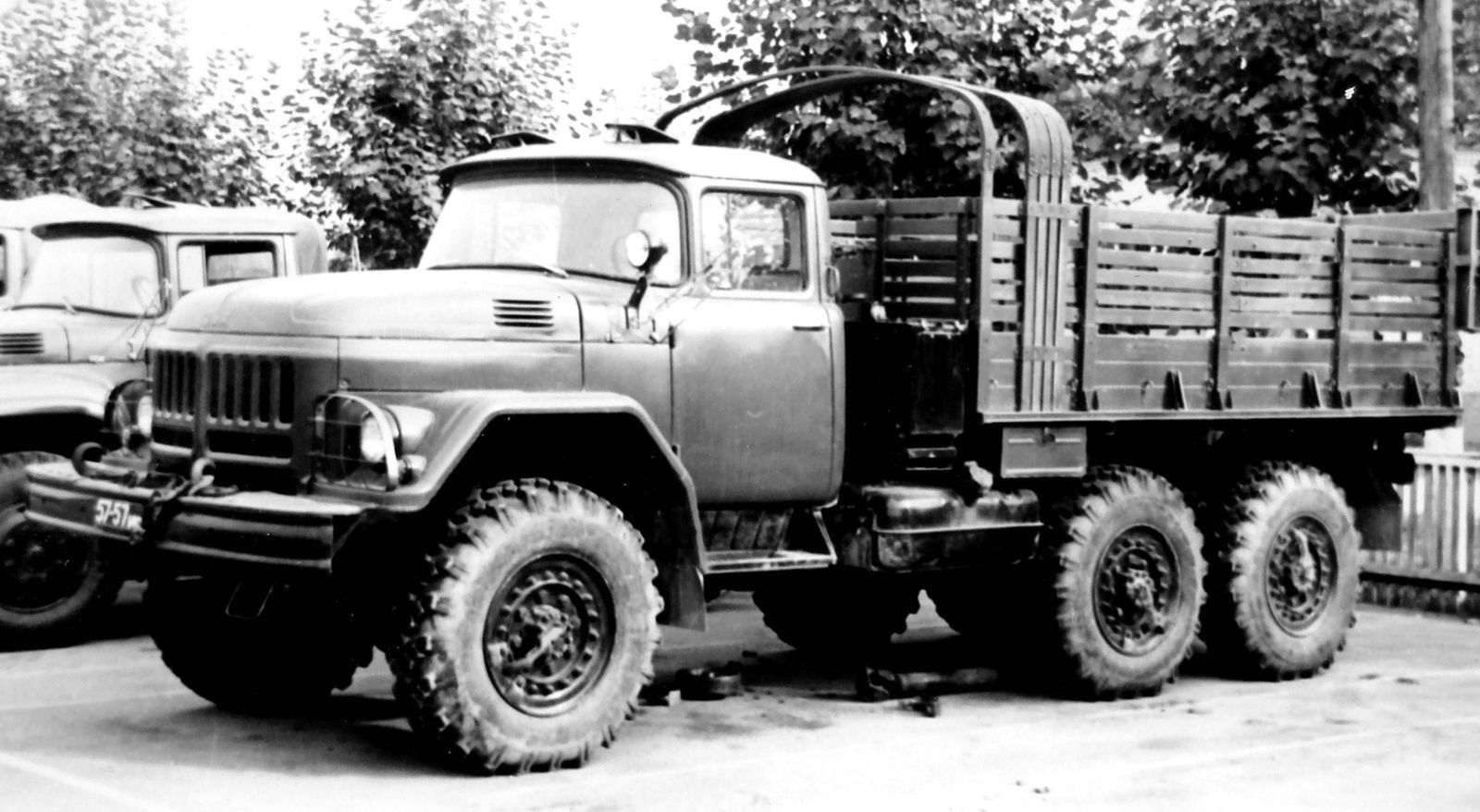 In the process of serial production ZIL-131 was constantly improved and equipped with new units and small parts, but its external features remained virtually unchanged. In April 1974 the entire family was awarded the honorary state seal of quality.
A development of the basic model was the tractor ZIL-131V with a shortened frame and semi-automatic hitch, which was used to tow on the highway semitrailers with gross weight of up to 12 tons and on the ground – 7.5 tons.
In the late '70s, the only and unsuccessful attempt to switch to a new military vehicle were experimental models ZIL-131M with a multifuel V8 engine with 170 horsepower, an elongated hood and different versions of the front end cladding.
An updated truck tractor ZIL-131HV with an increased load on the coupling device, front winch and two "spare parts" behind the cab as part of road trains had a speed of 75 km/h.
Production of all versions of the 131st ZIL at the Moscow plant ended in 1990.
Military versions and equipment on the ZIL-131 chassis
In the Soviet Armed Forces and in the armies of foreign countries ZIL-131 trucks were used to transport 18-24 people on longitudinal or transverse benches in the body, install army superstructures and tow trailers and artillery systems of small and medium caliber.
In the army the trucks were retrofitted with camouflage headlights, stands for personal weapons, night vision devices, boxes for military maps, and in some countries they were mounted on truss frames for the demonstration of missile weapons.
In the 1980s, the military plant #38 assembled a prototype of a production ZIL-131H for transportation of soldiers during the cold season. It was equipped with an autonomous heating and ventilation system with a chimney mounted between the cab and the insulated body.
Militarized 131B tractor trucks usually worked in conjunction with standard single and two-axle semi-trailers designed by the Ministry of Defense, and carried large loads, sections of bridge crossings and bridge construction equipment.
Typical body-vans
Initially the ZIL-131 was equipped with standard army body KUNG-1M in several versions. In the late '60s, when the unification of military vans began, specially for it has been established production of sealed frameless structures K-131 and frame-metal KM-131 with a characteristic flat roof bevel, viewing windows and life support systems. In addition to various equipment they could hold crew members for long periods of time who performed their duties at extreme temperatures, high humidity and in conditions of radioactive contamination.
Radio communications and control equipment
The bulk of the new lightweight, rugged and safe body, based on the shielded chassis ZIL-131, used to accommodate the many systems of radio communications, radar, reconnaissance and control of the troops, the total number of which reached several hundred versions.
The priority in this area gradually shifted to autonomous radio relay stations, which created successive sections of army communication lines up to 300 kilometers long. They were equipped with various types of antennas up to 20 meters high, sets of cable reels, and their own gasoline-electric units.
The period of the 1960s and 1970s was considered the heyday of Soviet mobile radar systems of various capacities and purposes. They were based on the airfield radar RSP-7T with a range of 180 km created for ZIL-157 and shifted to ZIL-131. It was also used to control the movement of aircraft in the area of airfields and ensure their landing in difficult meteorological conditions.
In the mid-1970s a development of the former P-15M system was the P-19 Danube two-coordinate radar station on two ZIL-131 trucks with control equipment, a folding rotary antenna unit and power supply units. Its purpose was to reconnaissance and detect air targets at different altitudes and ranges up to 160 km, determine their coordinates, identify and transmit information to the command posts or anti-aircraft systems.
At a long-range observation station 1L117 to a distance of 350 km were used two trucks ZIL-131 with special bodies, which was mounted in the equipment transceiver station and the cabin of the primary and secondary processing of information received.
In the 70-80's the structure of an autonomous radar station all-around view P-37 "Sword", which served to detect air objects and air traffic control, included a car on a chassis ZIL-131 with control equipment operating mode locator in the body KUNG-1M and two-axle trailers with antennas and power plants. Survey range reached 350 kilometers, the accuracy of determining the coordinates – 500 meters.
Less extensive than for GAZ-66 was a set of military equipment on trucks ZIL-131 with bodies K-131 and KUNG-1M. It consisted of telegraph and missile systems communication sealing machines in seven versions.
Mobile station PU-1 on two trucks with standard vans was used for control of the division of operational-tactical missile complex 9K72. They housed workbenches, the first Soviet electronic calculating machine for calculating the flight mission, telegraphic typing device and switchboard, as well as a gasoline-driven electric generator.
High-level mobile command and staff vehicles included the MSh-1 complex based on a ZIL-131 with a KM-131 all-metal body, which housed work tables for commanders and operators, shelves and cabinets for documentation, life support systems, power supply, ventilation and heating. The towed trailer PSh-1 had resting places for combat crews, a sanitary block and tanks for auxiliary equipment.
In the late 60's in the category of machines to ensure the operability of long-distance communications appeared light mast supports FL-95 "Sosna" with telescopic booms up to 35 meters high, which served for mechanized lifting of receiving and transmitting devices of radio relay and tropospheric communications stations.
Such devices were based on ZIL-131/131H trucks with hinged supports and telescopic extending sections up to six meters long, driven by a hydraulic pump running from the vehicle's PTO. To increase stability, cable ties were used, which ensured vertical position of the boom at wind speeds up to 30 meters per second.