All boys drew cars as children. Most of them never got beyond doodles in their notebooks, but there are people who spent their whole lives "drawing cars" and earned not only money but fame with it. One of them is a classic of automobile advertising of the fifties-seventies, Arthur Fitzpatrick.
More than 700 illustrations for print automobile advertising, more than 40 international awards, and membership in the Association of Automobile Artists. A prestigious art award is named after Fitzpatrick, and he has inspired generations of designers, artists and illustrators with his work.
Arthur Fitzpatrick (friends often called him Art or Fitz) began his career in 1937, when he was only 18 years old: he worked as a designer at Briggs' Detroit auto body shop. A year later, he moved to Darrin, where he designed convertibles, sedans, and hardtops based on Packard chassis. The atelier was later bought out by Packard itself: Fitz stayed with the company and designed the 1942 Packard Clipper.
However, this is when the U.S. got involved in World War II. The country had no time for cars, and Fitzpatrick enlisted in the Navy. Return to the profession was quick – before he resigned from the Navy in 1945, Fitzpatrick signed a contract to create car ads for the brand Mercury – even then he was known as a first-class artist and illustrator.
The real success came to Fitzpatrick after he began working with Van Kaufman, a former Disney artist, in 1949. Arthur drew the cars themselves, and Van drew the beautiful backgrounds for them. The pair quickly found their unique style: Fitzpatrick and Kaufman's advertising materials looked glamorous, expensive, and new.
In 1959, the tandem of illustrators received an exclusive contract from Pontiac. The company at that moment had just decided to find a fresh approach to advertising its new Wide Track model range – and then Pontiac chief John Delorian ordered that all "print" advertising for the brand be done by Fitzpatrick and Kaufman. By the way, Bob Lutz, vice president of General Motors, did the same, and in 1970, he hired Art and Wade to create advertising materials for Opel.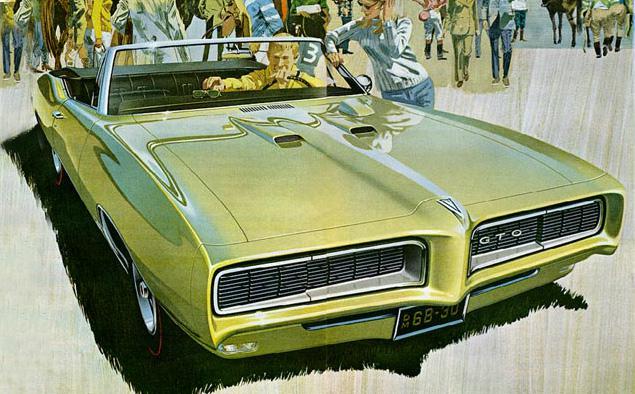 For inspiration and sketches, armed with cameras and sketchbooks, the artists traveled around the world. Rome, Paris, Monte Carlo, Acapulco, Hawaii, Puerto Rico – every year Art and Van boarded a plane and set off on a long journey. That said, according to Fitzpatrick, the same location was used no more than a couple of times for different promotional illustrations.
It seems that Fitzpatrick and Kaufman were working in the genre of realism, but they weren't. First, the cars in the illustrations were so attractive also because Arthur deliberately distorted their proportions, depicting them wider than they actually were. Second, in wanting to emphasize the proportions and clean lines of the body, Fitz purposely "forgot" about such details as wipers or antennas – in the artist's opinion, they only distracted the viewer from the beauty of the car in the illustration. Finally, the cars in the illustrations were larger than necessary: they dominated the overall composition, and sometimes barely fit into the "frame" – and this was also done absolutely intentionally.
At one point, management even decided that the duo had "overglamourized": Art and Van were called on the carpet and poked their finger at two illustrations whose backgrounds looked "too foreign." Fortunately for the illustrators, management pointed to promotional posters with New York and Washington, D.C. as the background.
At first, the proportions of the cars in the illustrations also displeased the "upper management." Upon learning that Fitzpatrick was distorting the dimensions of the cars on his own volition, the management almost gave him a reprimand for "amateur artistry". Arthur got out of the situation gracefully: he took a camera, photographed the car from different angles, the resulting images circled around the contour – and in addition to these "sketches" drew a similar car, but with distorted proportions. Then he brought his work to his boss and offered to choose the "wrong" car. The drawing with the "amateurism" was guessed only from the third time, and there were no more questions to the artist.
According to polls, for ten years in a row, the work of Fitzpatrick and Kaufman were recognized as the best magazine ads – with up to 47 percent of respondents voting for Pontiac! And the sales results were not without Art and Van's help, too: by 1962, the brand had moved from seventh to third place in the U.S. market. Only very mass-produced Chevrolet and Ford were more popular.
By the way, the illustrators took insane amounts of money. Fitzpatrick's contract stipulated that every three months Pontiac had to give him three brand-new cars: usually they were Bonneville, GTO, Grand Prix or Le Mans top models.
All in all, Fitzpatrick and Kaufman made 285 images for Pontiac. Together, Fitzpatrick and Kaufman worked for 24 years – and after leaving Opel in the late 1970s, neither Arthur nor Van were involved in automobile advertising anymore. Kaufman died in 1995, and Fitzpatrick is alive and well and still living in southern California. He is now 94 years old.
He hasn't retired from business, though. Collectible postage stamps Fitzpatrick with American sports cars fifties, issued seven years ago, sold 38 million copies, and on sales were twice surpassed by similar products with Disney characters. By the way, Disney-Pixar itself hired Fitzpatrick as a consultant in the creation of its cartoon Cars in the mid-twenties. After all, who else but him could tell how cars should look, even cartoon ones.